Property Merge POST Processor
Available since version 1.10.0
Purpose
Collect data from multiple dialog inputs and combine them into a single property.
This is great for creating multiple Dialog inputs, say for tags, restricting each input specifically to that Tags use case, but storing the data to the common cq:tags property.
While pointing multiple dialog fields to a single property and combining the values is supported, OOTB, each dialog field will display the combined set of values.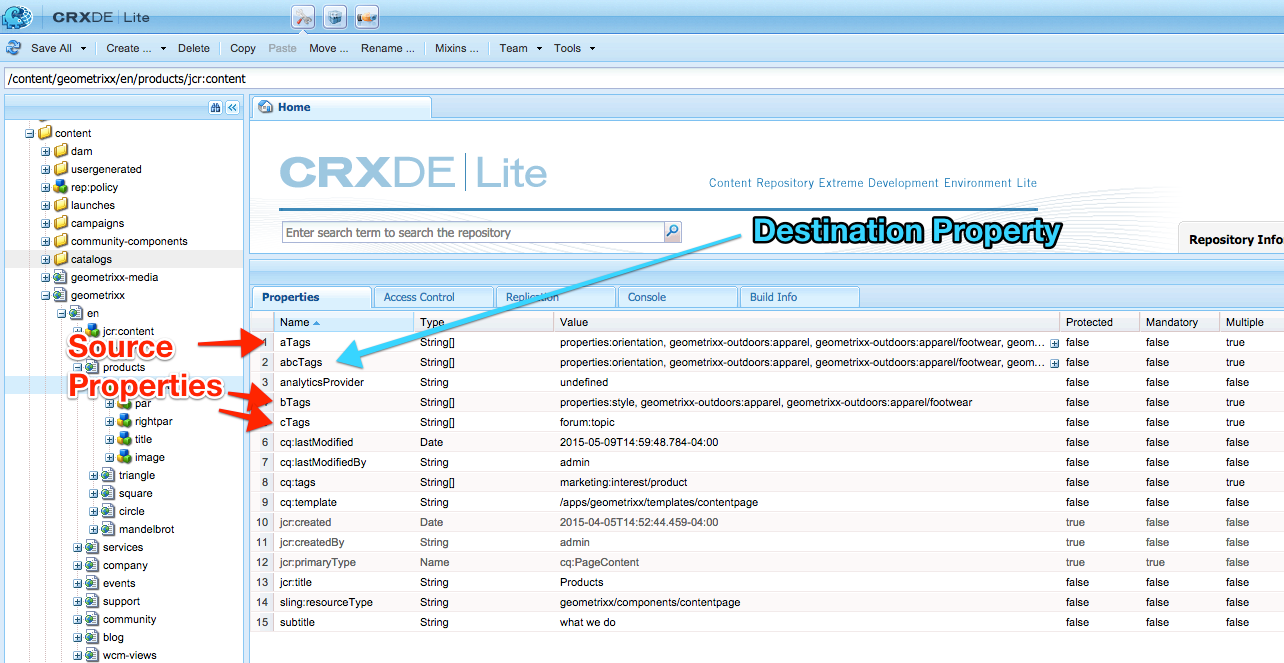 How to Use
Add the following POST parameters
:<sourceProp1>@PropertyMerge=<destinationProp>
:<sourceProp2>@PropertyMerge=<destinationProp>

:<destinationProp>@PropertyMerge.AllowDuplicates=true|false
:<destinationProp>@PropertyMerge.TypeHint=String|Date|Long|Double|Boolean

Example
:aTags@PropertyMerge=abcTags
:bTags@PropertyMerge=abcTags
:cTags@PropertyMerge=abcTags
:abcTags@PropertyMerge.AllowDuplicates=true
:abcTags@PropertyMerge.TypeHint=String

:dTags@PropertyMerge=deTags
:eTags@PropertyMerge=deTags
:deTags@PropertyMerge.AllowDuplicates=false
:deTags@PropertyMerge.TypeHint=String

Adding the above as request params will merge aTags, bTags, cTags into abcTags and dTags, eTags into deTags
Note the : prefix to ensure these params are ignored by the OOTB Sling POST Servlet, and not written to the underlying resource.
Example of ExtJS Dialog XML